3D animated explainer created for London based company, Jiminny. Designed, animated and produced by Dreaming Fish Productions.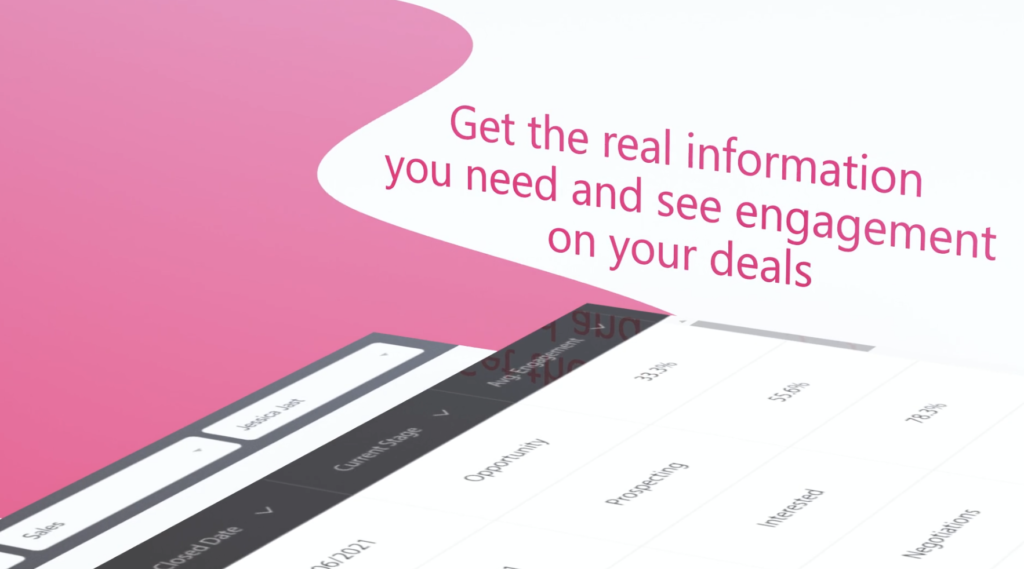 The project
Jiminny helps clients drive revenue through the use of their conversation intelligence platform that records and transcribes customer conversations allowing you to analyse calls, improve technique and deepen relationships. Jiminny has been a client of ours since 2018 and in that time, we have created a live-action brand film, a 2D explainer animation, a software demo video as well as an events highlights!
For this project, the team at Jiminny were launching a new product, Deal Insights, and they wanted an explainer video to help promote it. They had created some marketing collateral and this had a lovely 3D design style that would lend itself beautifully to 3D animation. Our animator James mocked up some style frames using the existing design as a template to show what the animation could look like and we pitched this approach to the Jiminny team and they loved it! Check out a few examples of our styleframes and storyboard below: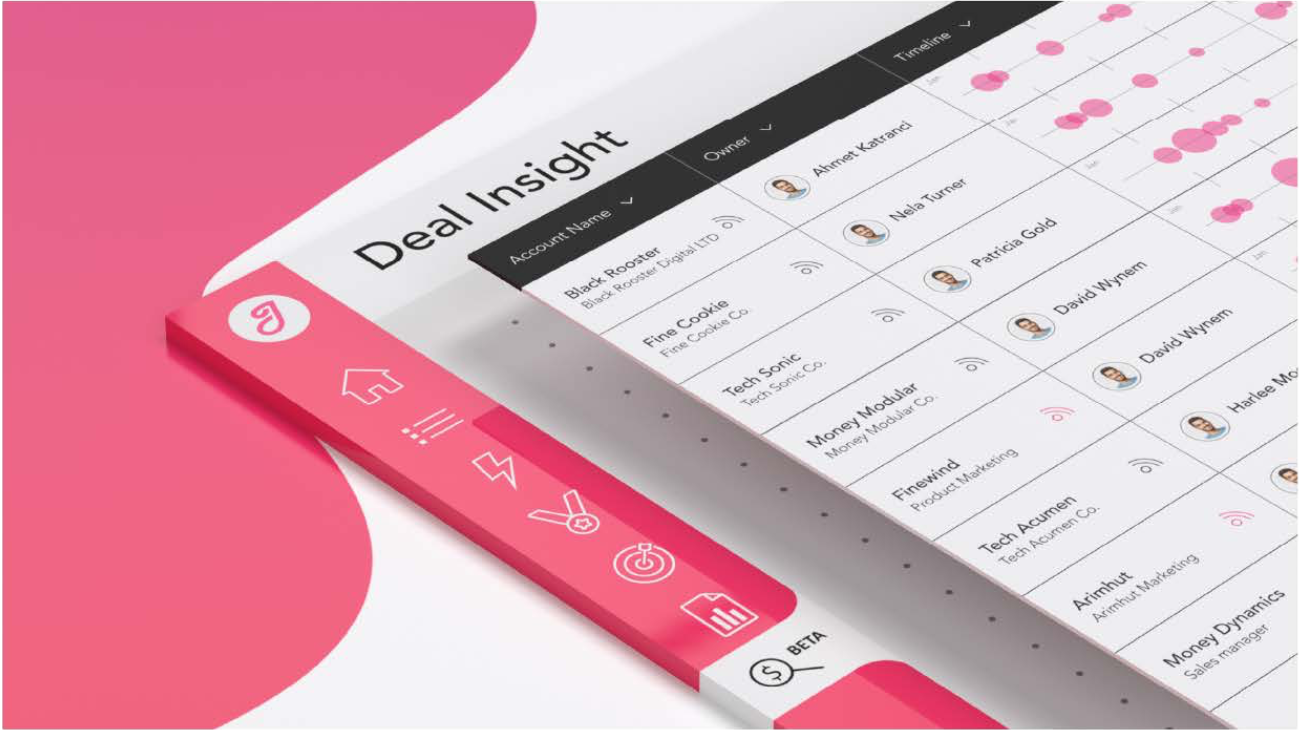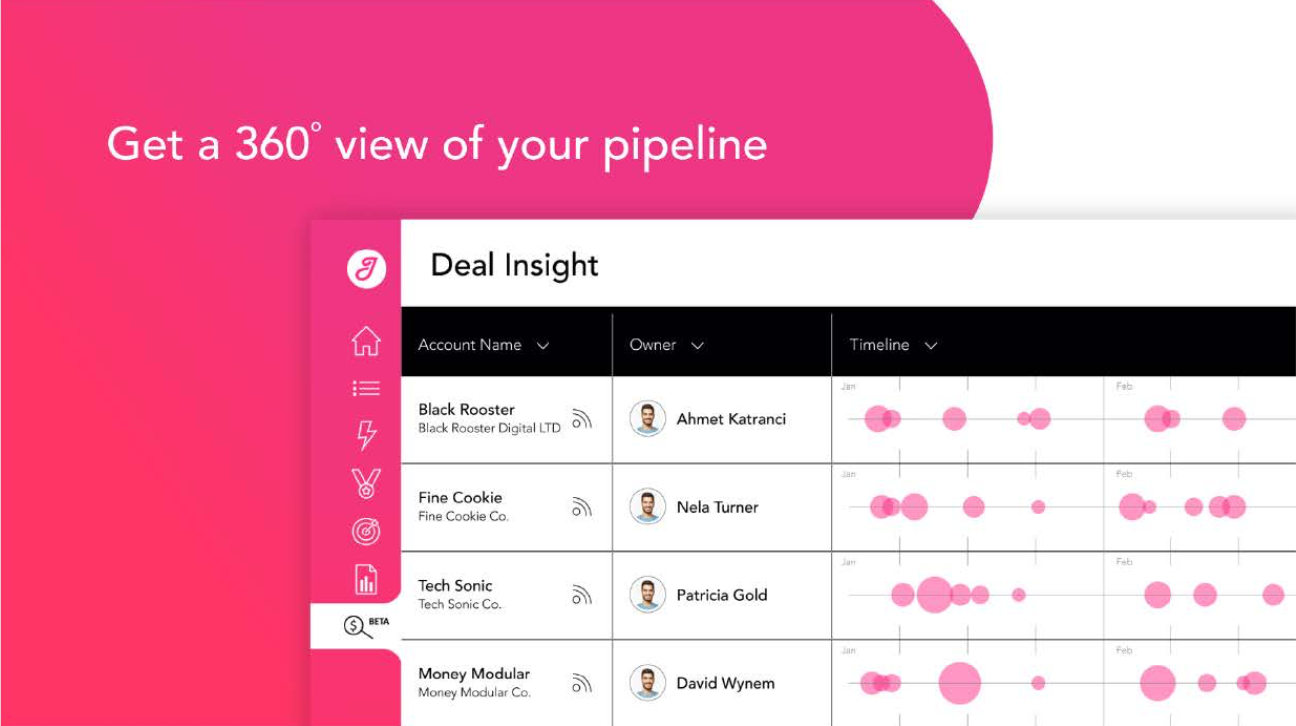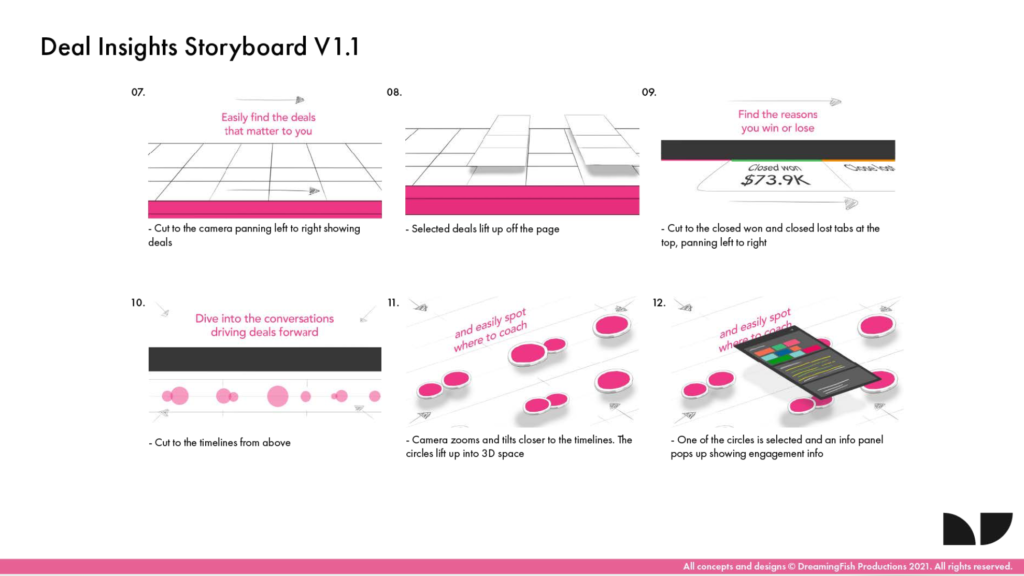 "Deal insights was the first full 3D job I did for Dreaming Fish. It was fairly early on in us getting to grips with the workflow for 3D so we had to do quite a bit of R&D into how we'd represent the product UI. We settled on the idea of this sort of panel which things would pop out of. We had the camera move around it and created a lot of shiny reflective materials to give a glossy and modern feel to it all.
We learnt a lot about the process through making this video. I think it came out pretty well in it's own right, but it was also a jumping off point for us to identify what kinds of skills we needed to sure up for future videos. Since then we've gone on to improve our camera work and motion with clients like Uniform, and we're putting more focus on composition, lighting, and material work in the upcoming Onesite video. In the future we hope to take the ideas we started here much further and create really exciting new 3D product videos."
•James, Motion Graphics Designer
The explainer
The final animation was a huge success and Jiminny team shared it on their website, across their social media platforms and also featured it as a GIF in their monthly newsletter. We are super proud of this video, great work team!
FAQs
Why 3D animation?
3D animation is a great way to bring an animated software demo video to life in a more engaging way than just using screenshots or 2D static content. 3D allows for a different view of the software, and to use elements and highlight sections in different and interesting ways.
How much does a 3D animated demo video cost?
3D animation production is slightly more expensive than 2D animation, but it can depend upon the approach. 3D animation production can take a bit longer to design and takes longer to render at the end of the project, but that shouldn't be a reason not to take the 3D route as it can create a more engaging and realistic animation. The cost for our 3D animation services begin around the £5,000 exc. VAT mark, depending on the approach. Interested in finding out more? Why not get in touch with a member of the team today?
How long does it take to make a 3D animated demo video?
We would usually suggest around 6-8 weeks to create a 3D animated demo video. This time would include scriptwriting, design, storyboarding, animation and post production including sound design and music.