As the word's second most popular search engine (after Google), Youtube has over 2 billion visitors a month. So, advertising on the social platform sounds like a no-brainer, right? Whether you're launching a new charitable campaign, releasing a brand new product, or have an exciting announcement on the way, YouTube video ads allow you to reach new potential customers when they watch or search for videos on the platform. Adverts on YouTube can help you to broaden your brand awareness and recognition on a huge scale by capturing attention and driving demand from your target audience.
We've created many YouTube adverts for our clients over the years, helping them achieve multimillion-dollar bids but we've never produced our own. So, we thought why the hell not? And in September 2021, we did just that. We released our very first skippable in-stream advert, running it for 5 weeks. The idea of the advert was to raise brand awareness and recognition and in those 5 weeks, the video had 862,000 impressions and around 80,000 views…crazy right?! We are super proud of this advert (linked below!) and we are looking to release a new one sometime this year, so keep your eyes peeled…
How YouTube Video Ads can Captivate Audiences
In order to get your target audience to take action with your adverts on YouTube, it is important to consider a call to action at the end of your videos. A call to action can instruct the user to do things like:

• Visiting your website, allowing your potential customers to see your products and become acquainted with your brand
• Watching more videos on your YouTube channel in order to broaden your reach and build bigger brand awareness with your audience
There are many other important factors involved when it comes to the creation and production of YouTube video ads, which we at DreamingFish can discuss with you to ensure that your ad is produced to the highest possible quality whilst providing the greatest ROI.
Main Types of Video Ads on YouTube
Since the start of YouTube as a platform, the number of ads being served to viewers has increased tenfold. Many of YouTube's users find ads an absolute chore, a losing battle hoping to make it to the end of a three-minute video on how to bake cookies without any interruption…When an ad is served to us on YouTube, we tend to find ourselves hovering our fingers over the space where the 'skip ad' space will be but, sometimes, it doesn't appear! When it comes to finding the best way to target your demographic for adverts on YouTube, there are five main types of ads that you can serve to your customers. At DreamingFish, we know how to make the most out of each and every type of YouTube video ad, helping to win million-dollar bids for some of our own clients. So, what types of YouTube ads will work best for you?
• The Skippable In-Stream Ads
Skippable video ads can be shown to viewers either before a video or during a video (known as 'pre-roll' or 'mid-roll'). Your ad must be at least 12 seconds long, although it is recommended that somewhere under 3 minutes is best. The unique thing about skippable in-stream ads is that viewers have the option to skip them after the first 5 seconds; this means that it's crucial that these first seconds are engaging enough to keep the viewers hooked. Another positive thing about these types of ads is that, as an advertiser, you will only be charged when viewers watch longer than the first 5 seconds or if they interact with your ad in any way.
• Non-Skippable In-Stream Ads
The difference between these kinds of YouTube video ads and skippable ads is that there is no skip button at all! These ads can play before a video, or whilst it is playing and are one of the better choices when it comes to raising brand awareness effectively. Considering 76% of YouTube users skip ads when possible, removing that option and creating an ad that serves a purpose, is entertaining/engaging and is generally captivating, is the key with non-skippable ads.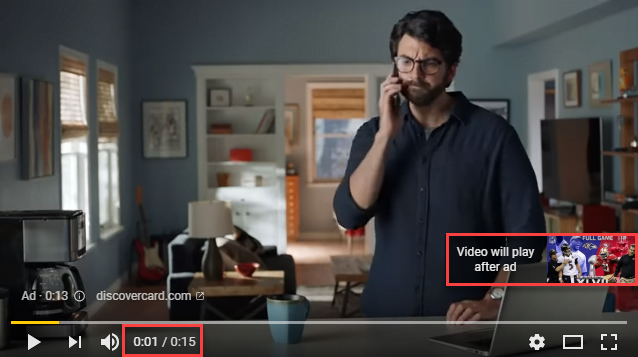 • Bumper Ads
If you have a simple message that you need to get across quickly to a mass group of people, bumper ads may be the perfect solution for you and your business. Not only do they require far less production than the typical selection of YouTube video ads, but they are ideal for raising awareness for events, promotions, or simply driving brand reach and generating leads. These kinds of YouTube video ads are 6 second non-skippable YouTube videos that play before the actual video.
• Discovery Ads
YouTube's discovery ads appear in the Youtube homepage, watch feed as well as on the search feed. These ads are great if you're looking to get your new product, service or brand alongside in front of your target audience. These type of ads will usually have the yellow ad sticker over them as you can see on the image below.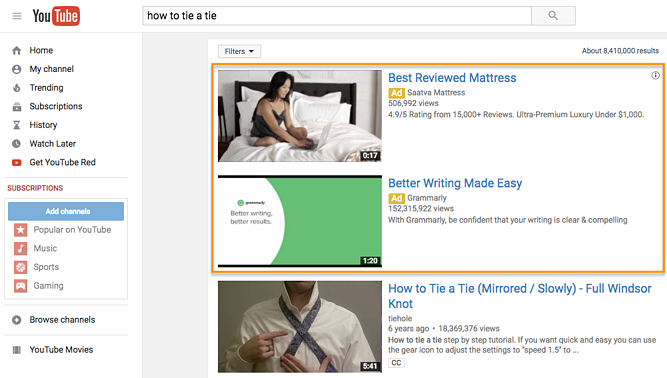 Ready to Create Your Youtube Ad?
Whether you want to increase sales or enhance your brand awareness, DreamingFish can help bring the vision for your ad campaign to life with creative, professional, and highly targeted YouTube video ads that will attract your global target audiences in unique and exciting ways. Unsure on which video approach to go for? Whether animation or live action, we will work alongside you to ensure your message is heard loud and clear! Why not check out our portfolio to see what we can do for you?