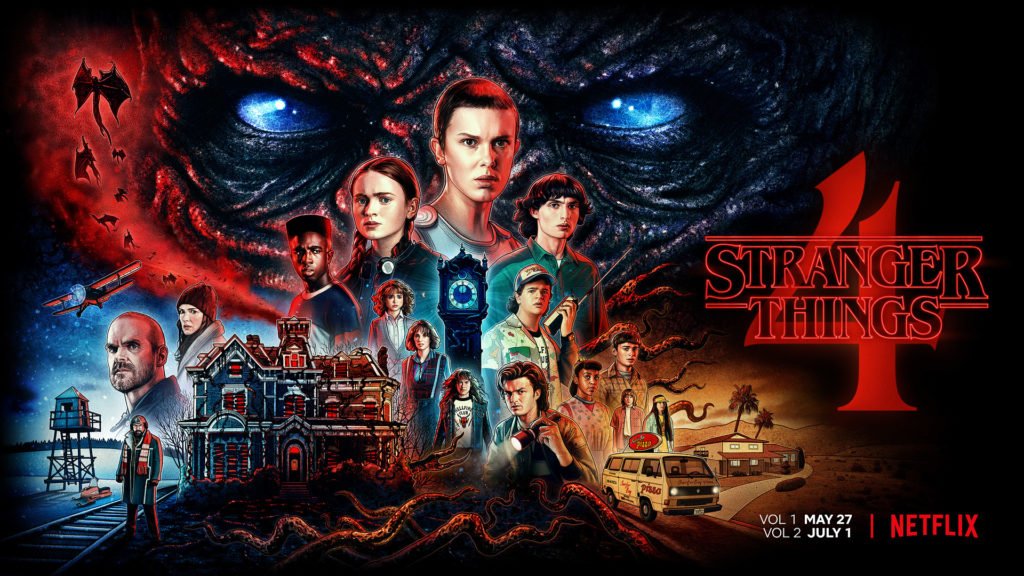 A New Netflix Record
Stranger Things returns for a 4th season and has already broken a new Netflix record within 3 days of its release!
Created by the Duffer Brothers, the American sci-fi drama series follows a group of friends in the fictional sleepy town of Hawkins, Indiana as they witness weird supernatural forces and secret government experiments. Season 1 was first released back in July of 2016 and centres around the disappearance of 12 year old Will Byers (played by Noah Schnapp). Featuring Winona Ryder, David Harbour, Finn Wolfhard, Millie Bobby Brown along with many other great actors, the series has gained a huge following and fan base worldwide since its debut.
Fast forward to 2022, the hit series is now on Season 4 and has beaten a Netflix record previously set by Season 2 of Bridgerton…According to streaming figures, the new episodes of Stranger Things were viewed for a total of 287 million hours in the first few days, making it the biggest-ever premiere weekend for an English-language series on Netflix. Compared to Bridgerton, which was viewed for 193 million hours during its debut weekend in March, the figures for Stranger Things saw an increase of almost 50%! That's crazy right??
Impressive Figures
The numbers don't lie; the new season of Stranger Things has reached impressive viewing figures all over the world! The series is currently number 1 on Netflix's Top 10 category in 83 of the 93 countries that the streaming service tracks viewership. Additionally, the previous seasons of the show have also gained popularity as viewers wished to catch up on the storyline in time for Season 4. Recent data from Netflix also shows that Seasons 1,2 and 3 have also landed on their Top 10 list: Season 1 gained 38.05 million hours viewed, Season 2 had 22.21 million whilst Season 3 pulled in 24.29 million hours viewed.
7 Episodes make up Volume 1 of Stranger Things Season 4. Volume 2 will feature the last 2 episodes of the season and is due to premiere in July. In an interview with NME, Matt Duffer says that episodes "Four and five are really [connected] together. [With five], there'll be no wind-up time – like even this season, you get to experience the kids and what they're going through in high school before things start to escalate. Then it gets crazier and crazier and crazier – that's typically the trajectory. Five, you're just going to be right in the middle of it so it's going to feel very, very different."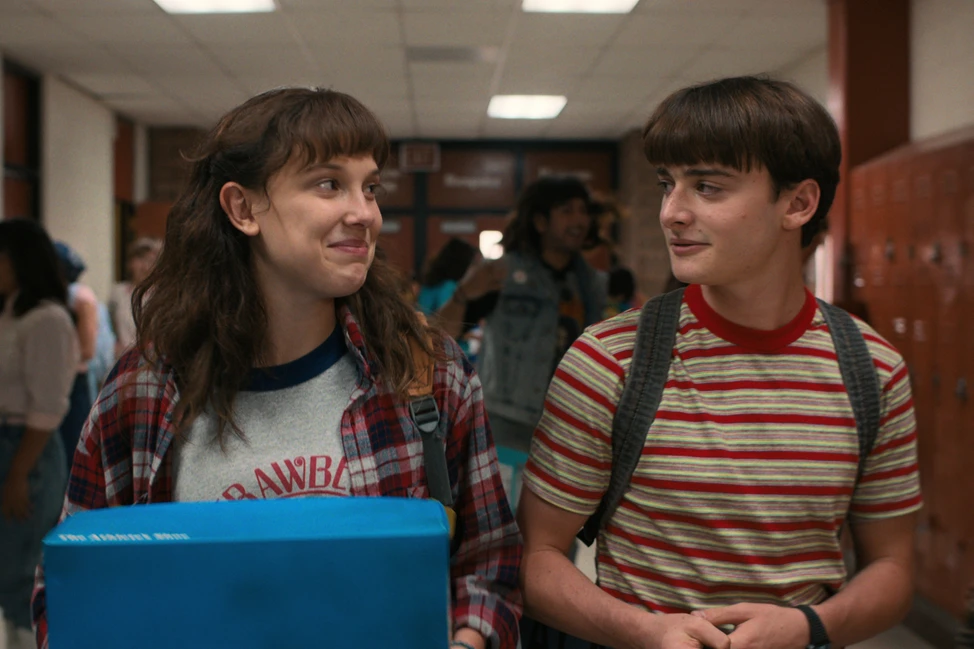 'Strange' Marketing
Ahead of the show's premiere on the 27th May, Netflix upped their marketing game to level 11 in order to create noise, anticipation and curiosity around Season 4. Their campaign titled 'The World Turns Upside Down' saw global landmarks having scenes from the series projected onto them along with several pop-up displays appearing all around the world: "the Upside Down will take over 14 countries through 15 landmarks including the Empire State Building in New York City; Bondi Beach in Australia; Duomo Square in Milan; Malecon Barranquilla in Colombia; the Gateway of India in Mumbai" and even in Shoreditch, London. This campaign was a great success and it attracted huge crowds of fans and curious bystanders. You can view a compilation of these real life 'rifts' in the video below:
A Nod To The 80s
With Stranger Things being set in the 1980s, the show heavily features influences from the era; from their fashion choices right through to the music soundtrack. The Duffer Brothers have created several 80s nostalgic nods (32 to be exact!) throughout the series and you can find out all about them here! The latest nod was the inclusion of Kate Bush's 1985 popular hit Running Up That Hill (A Deal With God), from her Hounds of Love album which fits perfectly in Season 4, further offering a great homage to the era.
Since the song's feature in the hit series, it has entered the UK Top 10 charts at No 8 and is currently ranked number 1 on iTunes. In a recent statement the singer said "You might've heard that the first part of the fantastic, gripping new series of 'Stranger Things' has recently been released on Netflix. It features the song, Running Up That Hill which is being given a whole new lease of life by the young fans who love the show – I love it too!… It's all really exciting! Thanks very much to everyone who has supported the song. I wait with bated breath for the rest of the series in July."
To The Upside Down
It's no doubt that Stranger Things has gained so much attention from viewers and fans across the globe. The well written coming of age drama/ thriller series appeals to a wide range of audiences and the storyline of each episode always leaves us wanting more. Here at DreamingFish, some of us are big ST nerds and are eagerly awaiting Volume 2…