Videography is the process of capturing moving images and includes video production and post-production. Video gains1,200% more engagement/shares over a static or text-based post, making video the number 1 content choice for digital marketing. Before we dive into all things videographer and corporate film maker, let's start with the basics…
What is a Corporate Video?
A corporate video or corporate film is a type of content intended to present and highlight companies' USPs, products and services. Corporate videos have a way of motivating and influencing viewers in a way that no other medium can. It gives clients and customers a deeper insight into a company; who they are, what they do along with their core values.
There are many different types of corporate films; brand films, explainer (how-to) videos, promotional content, internal comms, product launch and corporate events. These videos can be hosted on your website, social media or used for direct/online marketing or internally – the world is your oyster! Did you know that including a video on your company's landing page can boost your conversion rate by up to 80%?
Corporate Videographer London
What is the role of a corporate videographer? Essentially, videographers are filmmakers. Depending on the purpose of the video, it is the job of the videographer to capture high quality and relevant video content relating to a specific company brief.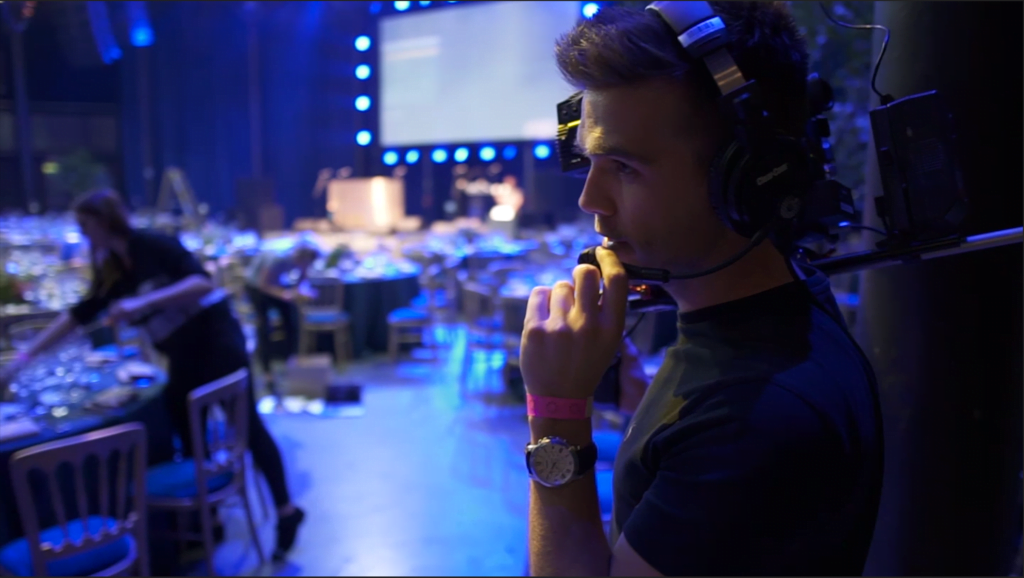 Videographers can work alone or as part of a small team depending on the type of corporate video being made. As filmmakers, they are responsible for operating their equipment, shooting the footage and using editing software to carry out necessary post-production needs afterwards.
Videographers will film corporate events such as conferences, lectures, award ceremonies, networking opportunities and interviews. Event videos can be used online or sent out to attendees who weren't able to make the event in person. Extra footage can also be created to make a highlights video that will showcase the general buzz and atmosphere of the event as a keepsake or to event promote next years event! Take a look at a recent highlight we did while working as filmmakers for ForgeRock, a multinational identity and access management software company with offices in London and Bristol.
It is all about creating content that connects and speaks to your audience. The video has to be engaging. Post-production ties everything together; from the raw footage to the final edit. Post-production is equally as important as the initial filming process and is almost a separate skillset. Transitions, timing and music are other important elements added in post production; they set the tone of the whole video whilst representing your brand.
How important is Corporate Videography?
Video is now an essential part of any marketing or communications strategy. It can build brand engagement by helping your customers make buying decisions. To help your company to get noticed, you need original and engaging content of corporate events. Getting a corporate film maker to create content for you is a brilliant way of raising brand awareness and showcasing the services you have to offer.
Video is so popular that Youtube is becoming the second most popular search engine after Google. Video marketing is extremely important but don't just take our word for it, the facts do not lie. Take a look at some facts listed by Forbes:
79% of users prefer watching videos to reading text about a product
55% of people watch videos online every day
Users spend 88% more time on a website with a video
Users retain 95% of a message when they watch it in a video
Social videos generate 12 times the shares than text and images combined
Take a look at our most recent Video Production Showreel below:
Do I need a Corporate Video?
Absolutely! You can guarantee that most successful companies nowadays are using or have used some type of corporate video before. In this day and age, you'd be crazy not to! Take a look at these extra stats if you are still unsure on the benefits of video production:
Video is the

#1 form of media

used in content strategy, overtaking blogs and infographics. (Hubspot)

61%

of marketers plan to increase their video spending in 2021. (Postclick)
We at DreamingFish have helped some of the world's best businesses double their turnover, win multi-million dollar bids and grow their business. We're based just outside of London, but we can travel anywhere you need us to be. If you are in need of corporate film makers, get in touch with us today, we'd love to hear from you!