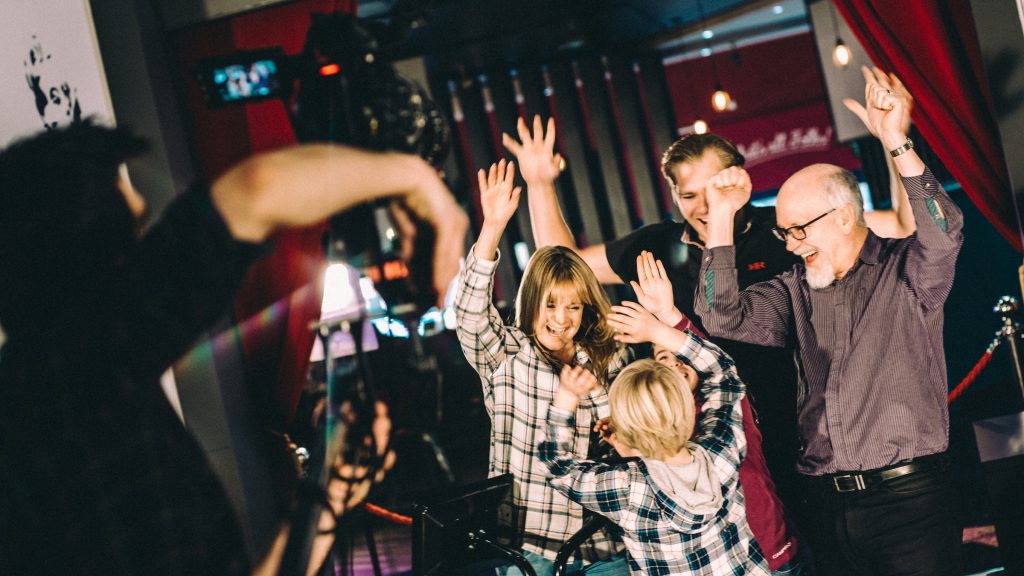 What You Need to Know:
For many brands and businesses out there, getting an ad on TV is the dream. Here at DreamingFish, we can help to make it happen through our TV commercial production services, which will come with everything you need to see your brand advertised in homes across the country (and even further afield if you'd prefer). But what different types of TV advertising are available? What formats are there? Why should you even consider creating a TV ad for your brand?
Our creative team will work with you on your content, audience analysis and making sure we get your ad on the right channel or VOD (video on demand) that will give you the best return on your investment. Take a look at our crafty guide on everything you need to know before getting started on your TV ad campaign!
What Exactly is Television Advertising, anyway?
Well, we know what a TV ad is and what they look like but when it actually comes to advertising your own brand on the telly, there's a few things you should know…Television advertising is the promotion of a brand, product, or service using short visual clips that are then given specific, paid-for time slots between television programmes. You'll spot them near enough right away on all channels apart from ones that are owned and operated by the BBC.
How Long Should TV Ads Be?
Typically, an ad will be around 30 seconds long, though they can be anywhere between 10 seconds and two whole minutes depending on a number of different variables. Normally, these variables will include:
• How long is needed to tell any story conveyed in the ad
• How complicated the message is that you're trying to get across
• How familiar audiences are with your brand already
• The budget you've got available
It's not unusual for brands that are just starting out in broadcast TV ads, to use longer slots so that audiences can get more familiar with the brand and build up a relationship with them. Once this has been done, the company can then cut their ad down to a shortened version. You may have seen this happen around Christmas time. Companies like John Lewis, M&S and Aldi tend to air a heartfelt story and premier it during prime time TV programmes such as X Factor and I'm A Celebrity, Get Me Out Of Here. This will then be followed by short, condensed version of the longer advert.

What are the Different Types of TV Advertising?
There are many different ways you can approach TV advertising depending on whether you're looking to market a product or a service. We've given a few examples of the TV ad types you're likely to see here in the UK:
1. Product Advertising
This is the type of advert you're probably most likely to think of when you hear a phrase like 'television commercial.' Product advertising is a very straightforward advert style; it is all about selling the audience a particular product in a short, snappy and memorable way. Sounds easy, right?
Perhaps, a good example of this advert style is the 2003 Tropical Showers ad by Herbal Essences, a hair care products line. Throughout the years, Herbal Essences have been known for their daring ads which show women reacting sensually whilst washing their hair with their brand of shampoo. Because of it's erotic nature, the video attracted much attention and controversy, which in turn made the advert memorable and unique. Take a look at the full advert below; do you remember seeing it televised?
2. Brand Advertising
These ads don't necessarily sell a product, but they do help to strengthen your brand by reinforcing its message in your audience's mind. Having one of these commercials out there should help you to develop a connection with your consumers over time and increase brand awareness.
3. Charity Advertising
You want a charity advert to be compelling because they're all about raising awareness of important information, whether that's donating to a worthy cause, volunteering time, or helping audiences to spot the signs of a stroke in a friend or a loved one. Think of all those animal and children's charity ads you usually see on daytime television and you'll have the right idea in mind. A particular charity that creates adverts like this well is the World Wildlife Fund (WWF). We are all aware that there are a number of endangered animals on the brink of extinction that need our help and attention. The WWF advert below was shown around Christmas back in 2017 but its message is still very relevant in 2021; save the elephants. The advert is effective as its emotive, powerful and evokes strong emotions with the viewers.
4. Episodic Adverts
Sometimes, these ads can be as interesting as the programmes themselves. This is especially true if you decide to use an episodic format for your television advertising. It's a fantastic way to build brand awareness and engage your audiences by creating sequential "episodes" to market your product or service, which are then delivered just like any other entertaining series. These types of ads are a great way to spark conversation and are likely to go viral if you have a strong storyline and pair it with a great online campaign.
5. Holiday Adverts
Everyone has heard (and sort of looks forward to) the John Lewis ads every year at Christmas, and they're prime examples of what we're talking about when we mean holiday ads. These are adverts that come out around major holidays, and usually have a larger scale production value, as well as a range of products or services to sell. Often, you're likely to find that people will start talking about these ads (and anticipating what will be in them) long before they come out!
6. Endorsements
Have you seen the Head & Shoulders ads with Claudia Winkleman, or the Sofology ads with Owen Wilson? Those are both examples of celebrity endorsements. These are ads which feature a famous person to promote a product or service, either by having them talk about what's being sold or even just by having them pose with the product. For many audience members, this might be enough to get them interested in a product ‒ if it's good enough for their favourite celebrity, it's good enough for them!
7. Direct Response TV Advertising (DRTV)
DRTV ads can involve any of the ad types we've already mentioned. It's the kind of ad that's supposed to get a response from the viewer, whether that's by calling a number displayed on the screen, sending a text or SMS message, or by visiting a website. It's part of a whole strategy called 'direct response marketing.'
How Do Different Television Ads Get Approved?
TV advertising in the UK is held to extremely high standards. Before any ad makes it onto our screens, it has to be independently checked and verified to make sure the messaging isn't misleading, harmful, or offensive in any way. This is all done by a company called Clearcast, who check all of the content hopeful advertisers want to put on air against the UK Codes of Advertising (the BCAP and CAP Codes). These codes set out what is and isn't allowed, and no TV ad is allowed on TV without first being run past Clearcast.
It may sound a little confusing but you don't need to worry because DreamingFish will handle every part of your TV campaign to make sure it sails through the Clearcast process and gets approved. We will discuss this in more depth when you get in touch with us to plan out your own TV advertising campaigns and strategies.
Why is TV Advertising So Popular and Effective?
We'd say that the main reason TV commercials work so well is because there's no skip button. We are so used to being able to skip past adverts online but when it comes to live TV or VOD, audiences are required to get through the ad breaks before their programme continues. With the correct targeting and ad placement you can reach mass audiences in your exact target market. Audiences still trust television, too, and you're more likely to find that a viewer will think of your brand as "legitimate" if you have your own TV ad. Global studies have even shown that TV still has some of the highest engagement and purchasing rates because of this, it was found that there is a 60% likelihood of a purchaser getting a product when it's been marketed to them on TV, compared to a 40% likelihood if they first spotted the product online or on social media.
With ever-evolving marketing strategies on your side, you should find that you can target the audiences you need more effectively, too. This includes finding the time slots that your target market is most likely to be watching, for example, if your clothing brand is aimed at 16-34 year old women, a TV advert slot during programmes like Love Island, would be ideal to reach your target audience. By doing this, you'll be helping to make your ad even more effective, because you'll be putting it in front of the right audience.
Of course, you're also targeting a much larger (and more guaranteed) audience with television programming than you are with print advertising, or even some online marketing strategies! They're also more likely to be a captive audience, as 91% of audiences have been found to still watch at least some real time television every week (as opposed to streaming or video on demand), and not all of them are going to nip out of the room when your ad comes on!
Does Your Brand Need a Boost with a Great TV Ad?
If you're looking to take your business to the next level with a fantastic new TV advertising strategy, DreamingFish has the TV commercial production package you need to make it happen. We're passionate about providing the content our clients need, no matter where they are in the world, and making sure it stays fully on-brand by working closely with them to go through creative ideas to see which ones fit best.
We've also had the pleasure of working with a range of clients, from IBM to Hollywood Bowl, so we're confident that we can produce what you want to see. Take a look at our portfolio if you'd like to look at a few examples before getting started, or contact us if you're ready to get your perfect TV ad underway.