With the ongoing restrictions regarding social distancing and travel, hosting large events is looking increasingly unlikely for 2020 and that's where live streaming comes in.
Following the global lockdown, many companies saw an opportunity and quickly pivoted to running seminars using Zoom, GotoMeeting and other platforms, providing content to a captive audience. These platforms are great for simple webinars, but with live streaming you can break your presenters out of their spare rooms and create an event that people want to be a part of and get excited about while still remaining safely at home.
The Venue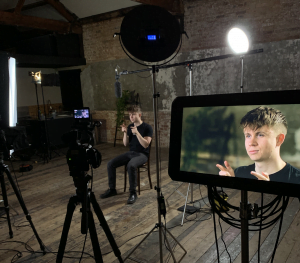 A large part of a live event is the venue. Locations like The Roundhouse or The Brewery provide excellent venues for attendees, but a virtual event isn't tied to large spaces like these. All you need is an empty or interesting space which gives you the option to build a unique set, stage and lighting rig depending on what you are looking for. Alternatively, you can use a smaller space where your host or main presenter can be based.
Studios, sound stages and other hired locations are beginning to open their doors to production crews once again with many of them having their own safety measures already in place. Studios also give us the room to keep social distance between members of the crew, presenters and clients to ensure COVID-19 guidance is maintained.
Production Value
Having a studio gives you space to safely add value to the production; a stage, set, lighting-rig and multi-camera setups are possible to give the viewer an exciting experience. But you don't have to break the budget, a smaller set-up could be used allowing a single host to compere an event and introduce speakers via video call, taking a webinar quickly into the realms of an event with little additional cost.
Content
The joy of a live event with a production team is that you can use slick graphics and multiple camera angles to create an exciting event that keeps people engaged and truly reflects your brand. You can also include (socially distanced) panel debates, fireside chats, interviews…the world is your lobster! Couple this with stand-up presentations, live graphics and videos and you have an event to be remembered.
Filming
Single or multiple cameras can be operated manually if space allows. Alternatively, special PTZ cameras can be used that can be remotely controlled by an operator, reducing the need for additional camera crew.
A vision mixer will then take the feeds from the cameras, mix these with any slide decks, graphics or videos and output to the live streaming platform or website of your of choice.
Have a look at what the UK Prime Minister has been able to achieve with a small crew and relatively low production budget.
Live Streaming
Live streaming gives you the power to broadcast your event to as many people as you like. With audiences from 1 to 10,000, you can stream your content without any of your attendees having to leave their home.
The stream can be hosted privately or publicly on various platforms including your website, YouTube, Facebook, Twitter or even to multiple platforms simultaneously. It can also be password protected for internal events or even behind a paywall so that you can monetise your event to create additional revenue. You can even livestream an event via Zoom, GoToMeeting or other webinar platforms if you already have an audience used to using these.
Another joy of many of these platforms is that you can check live audience numbers, their location and other analytics during the event.
Audience Participation
Audience participation is a big part of a live event – and a live stream is no different! Some platforms include live Q&A functionality like Zoom, but depending on where you are broadcasting to there are other options including social channel monitoring using a tool like Hootsuite. Questions can then be relayed to a host via a screen or earpiece and addressed to a live or virtual presenter.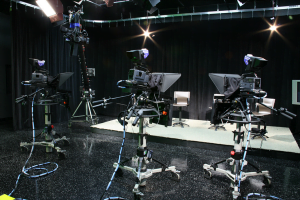 Post Production
Live streams can be recorded, giving you access to the content after the stream is finished and from this additional edits and social media cuts can be created, providing the option to share the stream at a later date for people that couldn't make the event itself.
Things to consider
It's relatively straightforward to take your event to the next level but it's worth thinking about whether your presenters are able to be present at the venue or will be joining via video call. If the latter then it's important to think about lighting, camera position and background to ensure that your video presenters look just as great as those who are in the room. Also most video calls are done sitting down. To get more energy from these they are best done standing up and this can take some practice. For those presenting in the room, it's worth having someone to act as an audience who they can react with to keep the energy flowing. This can be a director who can also be feeding the host questions during the Q&A.
It's relatively simple to take your webinars to the next level with live streaming, so why not get in touch with us today.