Introducing Squid Game
Squid Game is the latest show to cause a storm and get audiences all over the world watching and talking about it. We won't go into too much detail about it, so don't worry, no spoilers here! But, if you haven't yet watched it, we recommend you add it to your list ASAP. Squid Game is said to be a literal translation (ojingeo) of a popular Korean children's game, played during the 1970s and 1980s. The premise of the South Korean drama is fairly simple but by no means easy. The series follows a group of people who are in financial trouble/debt to compete against each other in a series of 'childhood-games', in order to win a hefty cash prize of 45.6 billion Korean won. That's about £28.2 million….pretty decent, right?
What's interesting about Squid Game is it's huge and fast worldwide success. Created by South Korean film director, Hwang Dong-hyuk, the 9 episode thriller is set to become Netflix's biggest "non-English-language show in the world," says Netflix's co-CEO Ted Sarandos. In an article by Variety, Hwang Dong-hyuk explains: "I wanted to write a story that was an allegory or fable about modern capitalist society, something that depicts an extreme competition, somewhat like the extreme competition of life. But I wanted it to use the kind of characters we've all met in real life. As a survival game it is entertainment and human drama."
Squid Game dethrones Bridgerton
Only last year, the biggest series to grace Netflix was Chris Van Dusen's Bridgerton, a period drama set in London, which couldn't be more different to the Korean series. The Regency romance series premiered on 25th December 2020 and in its first 28 days, saw 82 million viewers. In comparison, Squid Game, which premiered on Friday 17th September 2021, has been viewed by 111 million people within the same number of days…To celebrate Squid Game's milestone of 111 million viewers, on 12th October, Netflix shared the news on Twitter with a montage from the show offering a "heartfelt thanks" to their fans. Netflix counts a view as anyone who watched 2 minutes of an episode and, with nearly a month on from its debut, Squid Game now has over 132 million views worldwide and counting!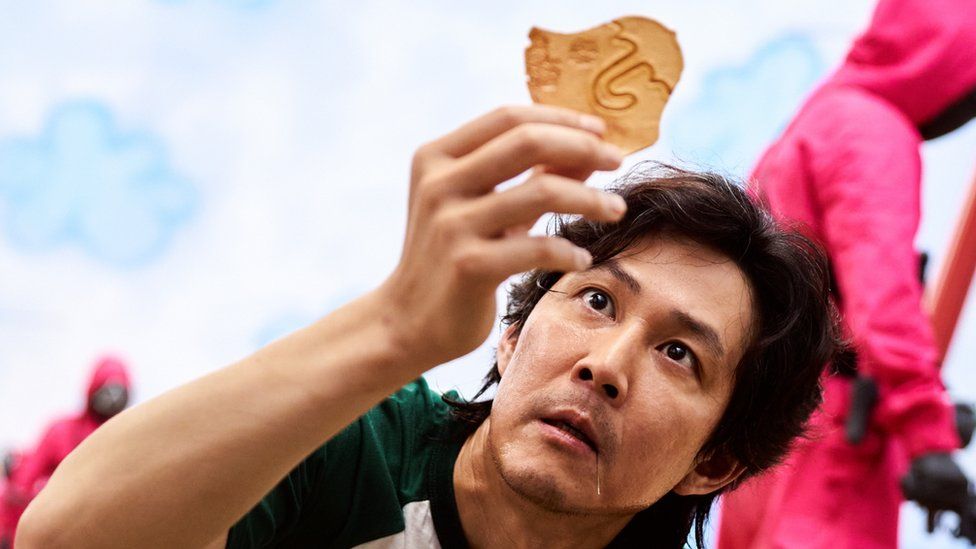 Global success
We can't say for sure that both Bridgerton and Squid Game were watched by the same people but, for the sake of this blog, let's say it's mostly the same audience. So, millions of people from all over the world tuned in to watch two very different shows. With this in mind, we think it is pretty fair to say that it would be very hard to fit/squeeze those people into a certain box when it comes to their choices of entertainment.
This got us thinking…In our line of work, we create all sorts of videos; from promotional, animated explainers, testimonials, internal comms to brand films. Ultimately, all these types of videos have a defined purpose; to sell the audience something, whether that is a product or a reputation.
A lot of the time, we are asked to make a video aimed at a specific target audience, within a specific sector or industry. Depending on the industry, a quick assumption of the video's tone of voice is already made before the brief even comes into play. For example, a video in the financial sector might carry a more serious, technical and straight-talking tone of voice. However, this is purely an assumption and it implies that all people who work in the financial sector dress in a certain way, expect to be spoken to in a specific way and are probably the ones who tend to watch TV shows like Bridgerton. These assumptions and limitations are now outdated and don't really apply within any industry anymore!
Whatever sector people work in, they all have individual personalities and different tastes and it's getting harder and harder to put people in boxes to describe their place in society. So, forget the boxes… Remember that you're talking to people who may have similar interests to you! When it comes to developing a creative concept, writing a script or designing visuals for any video for our clients, at DreamingFish we always remember that people and entertainment come in all shapes and sizes. And, if we can take away anything from Squid Game, it is exactly that.
The internet's favourite show?
Squid Game has become a pop culture phenomenon and Korean entertainment is now starting to get the spotlight and the recognition it deserves! So, what are you waiting for? Start watching Squid Game today, and good luck…