Animated video production
The term animation is used to describe a series of still images or illustrations joined together to form a fast paced sequence; giving viewers the illusion of movement. Animated video production is becoming increasingly popular in the UK and worldwide and video is now one of the best ways to share short and informative messages to an audience, with more and more companies using it as a learning, training and educational tool. Did you know that 84% of people have been convinced to buy a product or service after watching a brand's explainer video? As a creative agency, we have been lucky to work with some great clients like corporate giants UBS and IBM, making various videos for them in a range of different styles, to be shared on their website and across social platforms. When you choose DreamingFish, we will work collaboratively with you, from story to screen in order to create engaging, innovative and effective content for your business. Looking to get started on your video journey? Get in touch with us today!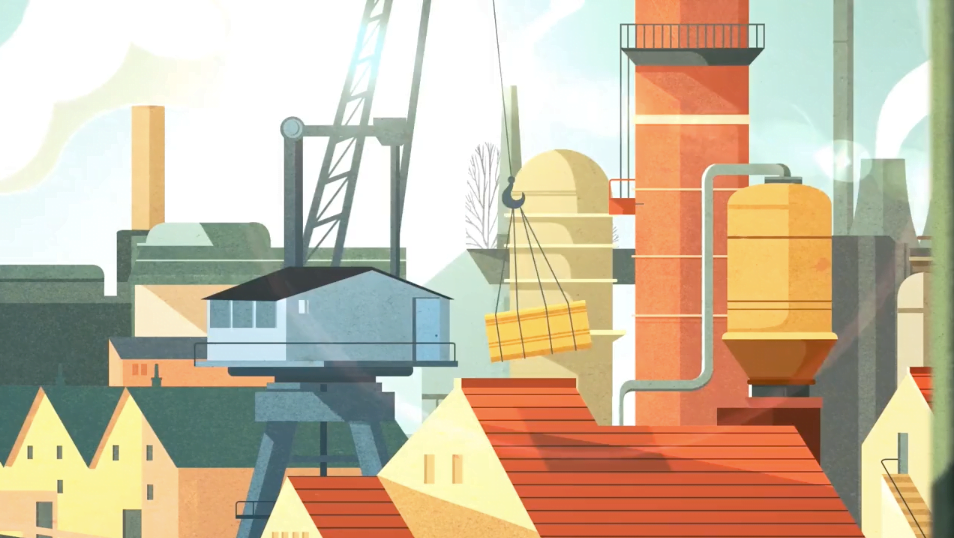 The different styles of animated videos:
There are lots of different animation styles to choose from when it comes to creating training and educational or promotional content for your company. You may be after a 2D approach, which is a form of vector-based animation using digital illustrations or hand drawn tools in order to produce innovative and creative drawings. You may however, prefer an explainer video that uses kinetic typography and iconography; the list is endless! If you're unsure on which style would best suit your brand, don't worry! When you get in touch with us about your animated video requirements, our in-house team of creatives will discuss the best animation approach for your business. If a picture can paint a thousand words, imagine how many a video can! Ps. it's a lot more! Why not head over to our portfolio to see some examples of the videos we have created?
The stages of animated video production:
Your business will be at the heart of everything we do and we will keep in regular communication with you throughout the project to ensure you're happy with how things are progressing. There are a few essential steps when it comes to creating and designing any type of animated video and below is our general step-by-step animation production schedule:
•Scriptwriting: based on your key messages, our in-house team of scriptwriters will work on a script that echoes your brand's tone of voice. Whether you're creating promotional content for a product or a corporate training video to be watched by your employees, we want to make sure that your brand values and personality comes across. Once you are happy to sign off the script, we can move onto our next step!

•Style-frames and designs: when working with you, we'll decide on a design approach that is on-brand, engaging and easily recognisable to help with marketing and brand awareness. We will usually get inspiration from your brand guidelines, websites, reference videos you like, and other assets your company may already have.

•Storyboarding: once a design approach has been chosen, using your script, we'll create a storyboard so you can see exactly what visuals will be accompanying the voiceover to get a feel for how your final video will look.

•Animation: the next step is to start animating! This is the exciting part where we bring all our previous work to life to create an edit of your video, and you'll get to see the animated music video, infographics, or web video animation you've been imagining start to appear on screen.
•Delivery and post-production: once the animation is finished and signed off, it yours to keep/share! Depending on the approach of your animation, time frame and budget, we may add a little bit of sound design and secondary animation to give your video that extra oomph!
Interested in our animation services?
To learn more about our animated video production services, call us on +44 (0)203 745 0825 or contact us using our enquiry form:
FAQS about animated video production
How much does animation production cost?
The cost of your animated video depends on several key factors; the style of animation you choose to go for, the desired length, use of voiceover/onscreen text etc. Based on this information, we will put together a bespoke proposal which includes a cost breakdown for your project along with examples of our previous animations. If you have a rough budget in mind for your project, please let us know as we will work out what is achievable. We will only start production once you are happy to sign off the quote and get started!
Can you create animated videos for use on social media?
Absolutely, we'll be more than happy to create social media edits for use on your social channels. We can also optimise your videos for maximum engagement by altering the dimensions (square for Instagram, portrait for stories etc) as well as keeping the edits between 10-30 seconds in length, making sure your viewers get to your all important call-to-action at the end. You can see the different styles of animations we have created below in our latest animation showreel!
View our animation examples
---
Global Warriors | Neuroplasticity explainer
PepsiCo | Food Fraud explainer
Ford | Go Detroit explainer
Contact us today!
Looking for an animated video for your business? Call us on +44 (0)203 745 0825 or contact us using our enquiry form: